Our Team
We hope you enjoy seeing some of the boats we own and/or sail on. Since many of us race, cruise or live aboard, we are always looking for ways to improve our boats. Many product improvements began as customer suggestions so send us your thoughts or look for us on the water!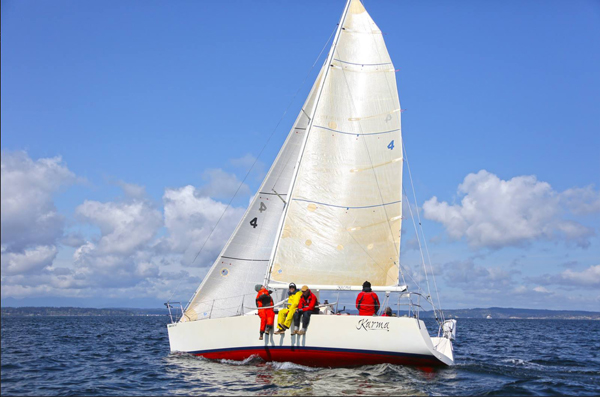 Rick Colliers on Karma
Boat Name: Karma
Boat Model:Dash 34
Homeport: Kingston, WA
Owner: Rick Colliers
Title: Sales Representative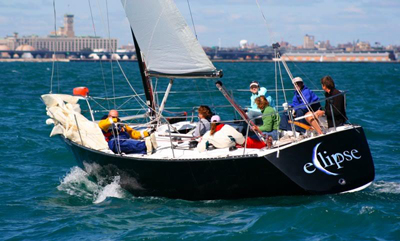 Boat Name: Eclipse
Boat Model:Tartan 10
Homeport: Milwaukee, WI
Owner: Ken Quant
Title: Owner, Broad Reach Marketing
Notes:A well-known and successful local race boat, Eclipse has literally exposed hundreds of people to sailing and sailboat racing throughout the years.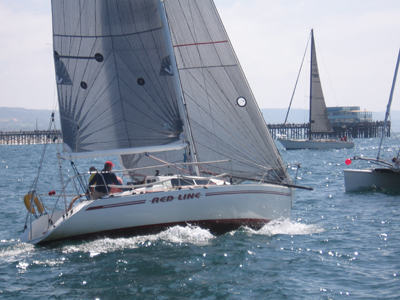 Boat Name: Red Line
Boat Model:Soverel 33
Homeport:BCYC, Newport Beach, CA
Owner: Mike & Pat Dwight
Title: Owners, HQZ Experts
Forespar Products: Boom vang, spinnaker pole, tiller extensions
Notes: Good, fast and reliable boat. Lots of fun. Won a pile of trophies, including some big ones. Still fast, still fun.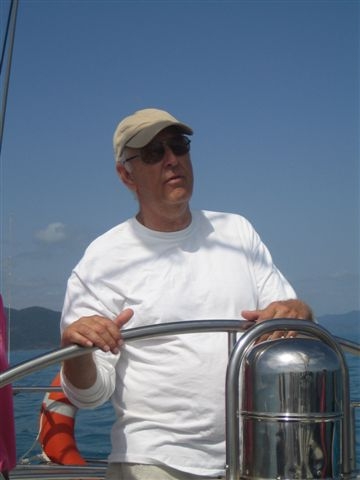 Forespar VP Bill Hanna at the wheel of the Maxi Ragamuffin in the Whitsunday Islands
Boat Name: Maxi Ragamuffin
Boat Model: Maxi Racer
Homeport: Whitsunday Island
Owner: Bernard Heimann
Notes: Built in 1979 in Sydney Aus. by Kelly and Haugh. Won a wide variety of international yacht races as Bumblebee and as Ragamuffin.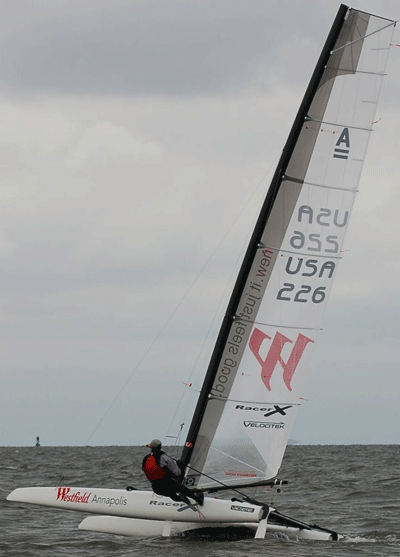 Boat Name: Racer X
Boat Model: A class catamaran
Homeport: West river sailing club, Galesville, Maryland
Owner:Tony Arends, Forespar Sales Representative
Title: Distributor Sales Mgr. – Marketing & Promo Mgr.
Forespar Products: 2" carbon fiber tube, used for 7' long boom. 72" big stick carbon fiber tiller extension, used for tiller cross bar. Speed lock universal end, used for tiller to cross bar links. Nash marine labels/ racing decal, used on each hull to display code flags and starting sequences.
Notes: At 18' long and with a sail area of 150 square feet the A class catamaran is one of the fast single handed sail boats in the world. It's carbon fiber construction allows the boat to have an all up sailing weight of 165lbs.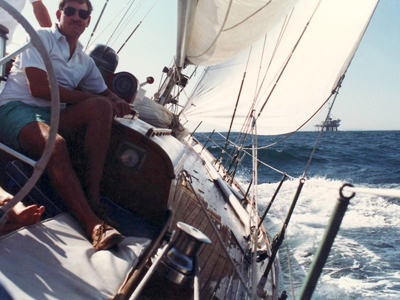 "Gesture" hard on the wind with Art Bandy looking at the competition far behind.
Boat Name: Gesture
Boat Model: Custom S&S 57
Historic Note: "Gesture" is a one-off Sparkman & Stephens 57 (57 on deck, 9-1/2 foot draft-full keel with a barn door rudder, 41 foot waterline until she heals over!) built in 1941 at Quincy Adams Yard in Boston. This is a classic woody, shown here off Southern California when she was based in Newport Beach, CA some years ago. Although all sailors know that the size of a boat has little to do with how much we enjoy sailing her, there is something to be said about the special feel of a sail like this.
Out of our love for classics such as this, several Forespar employees worked for more 20 years on her restoration. Most credit goes to Art Bandy (OEM Sales Manager).
Forespar Products: We built the boom, new spreaders, spinnaker pole and reaching strut. Also has a holding tank discharge deck flange and an ML-2 combo light and Lightning Master™ at the top.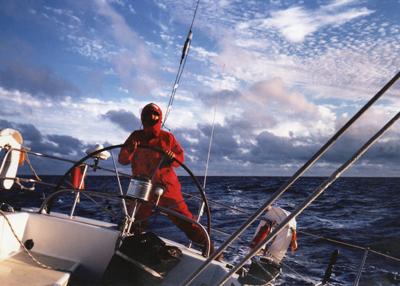 Skip Chetelat at the wheel of "Drumbeat" after winning the 1987 TransPac race. He looks like he is dressed more for the Atlantic than the warm Pacific. Skip is Forespar's Senior Spar Designer.
Boat Name: Drumbeat
Boat Model: Nelson-Marek 68
Homeport: Newport Beach, CA
Owner: The Ayres Family
Title: Senior Spar Designer
Forespar Products: Plumbing valves, Overboard pole, Shackle guards, Railfast fittings
Notes: Drumbeat, is shown here about as far from land as one can get. Skip is bringing her home from Hawaii, approx 1500 miles off shore after winning the 1987 Transpac Race. It's really cold in the middle of the Pacific – and this was August!  Under the Fowlies were long johns, levis, long-sleeved shirt and a sweater…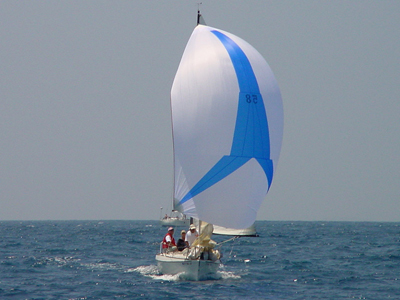 "Maiden" racing in the "Angleman Series" off Newport Beach, CA
Boat Name: Maiden

Boat Model: Moore 24
Homeport: Newport Beach, CA
Owner: Risvold Bros (Randy works for Forespar)
Title: Senior Customer Service
Forespar Products: Spinnaker Pole, Tiller Extension
Notes: Same boat sailing in BCYC's Angleman Series sailed out of Newport Beach CA.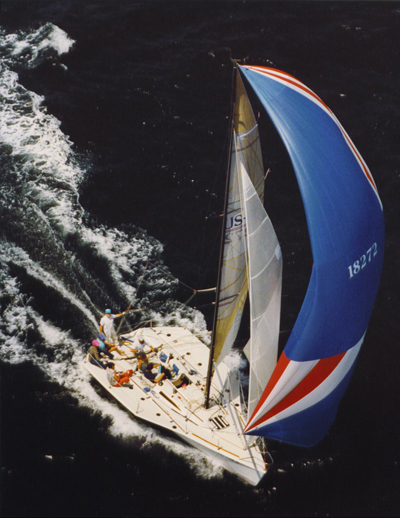 Moore 30 "Forthcoming" screaming into the lead off Newport Beach
Boat Name: Forthcoming
Boat Model: Moore 30
Homeport: Newport Beach, CA
Owner: Robert Klein, Randy Risvold aboard
Title: Senior Customer Service
Forespar Products: Spinnaker Pole and Tiller Extension
Notes: Randy raced this Moore 30 in the Nineties. This picture was taken as "Forthcoming" was passing the last big boat, a Santa Cruz 50, on an Opening Day race from Los Angeles Yacht Club to Newport Harbor Yacht Club.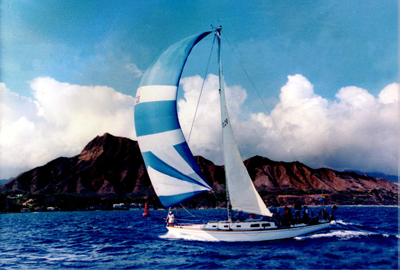 "Willow Wind" crossing the finish line off Diamond Head after winning her class in the TransPac. She is under control but obviously not in a position to carry more sail.
Boat Name: Willow Wind
Boat Model: Cal 40
Homeport: Long Beach, CA
Owner: Wendy Segal (Alamedos Bay Yacht Club), Randy Risvold aboard
Title: Senior Customer Service
Forespar Products: Spinnaker Pole, Reaching Strut, Marelon Valves, Safety Gear
Notes: The Cal 40 Willow Wind, finishing the 2001 after 14.3 days at sea. 1st. in Cruising Class A. These popular Bill Lapworth designs were a rare combination of a great cruising boats as well as a success on the race course.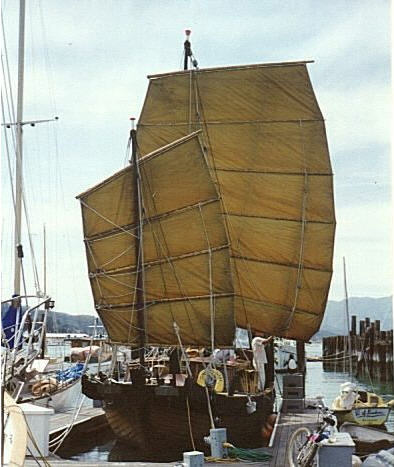 Photo taken in Sausalito, California
Boat Name: Sheunghai (Long Life of Double Happiness)
Boat Model: Chinese Junk
Homeport: San Francisco, CA
Owner: Merit Lee
Title: Webmaster
Forespar Products: Mini Galley Stove and Marelon plumbing
Notes: Built in Hong Kong in the late 1950s of 20 year old air dried teak, with bamboo batten sails.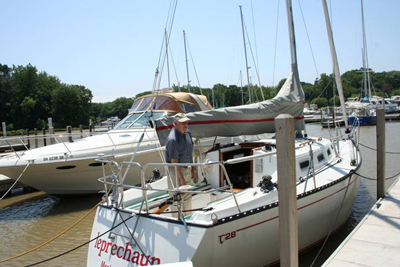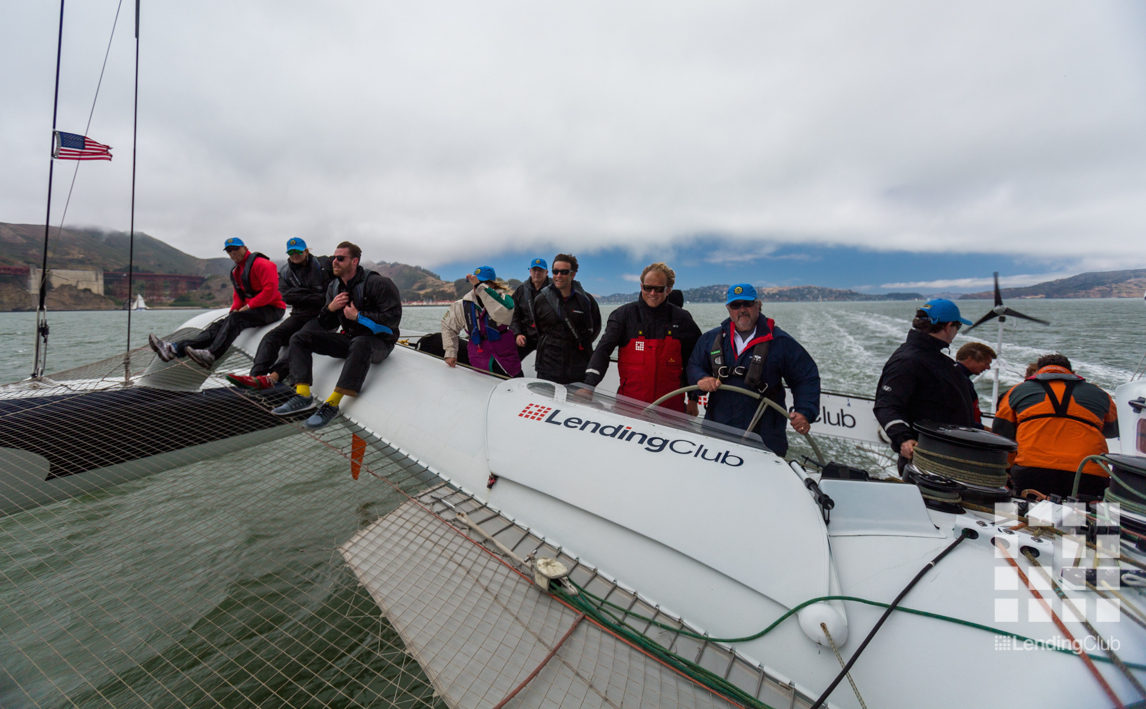 Bruce took a turn at the helm when Lending Club 2 visited San Francisco Bay in Summer 2015.
Boat Name: Lending Club 2
Boat Model: 105 feet maxi-trimaran
Homeport: San Francisco
Owner: Leased in 2015 by Lending Club, Bruce at the wheel
Title: Sales Representative
Notes: Lending Club 2 set three world speed records in Europe, the Atlantic and the Pacific in 2015.
Chance off Hawaii after winning the 1991 TransPac
Boat Name: Chance
Boat Model: Santa Cruz 70
Homeport: Los Angeles Yacht Club
Owner: Bob McNulty; Andrew Gothard crewing at pit
Title: Leisure Furl® and Spar Assembly Lead
Notes: Chance was first to finish, first in class and first overall in the 1991 TransPac. Andrew raced throughout the world and represented Australia in internationals more than 15 years.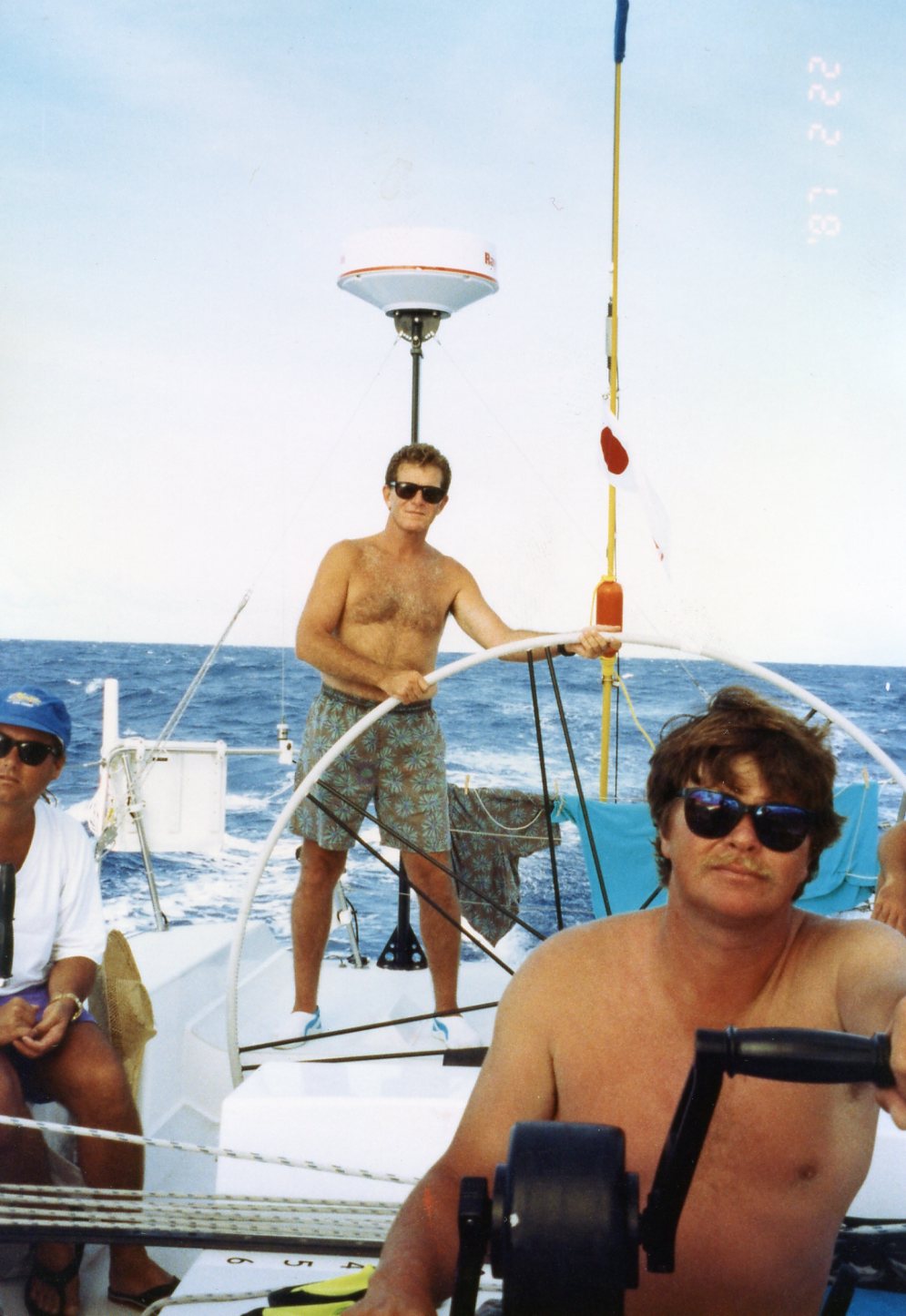 Chance owner Bob McNulty at the wheel, Andrew at the grinder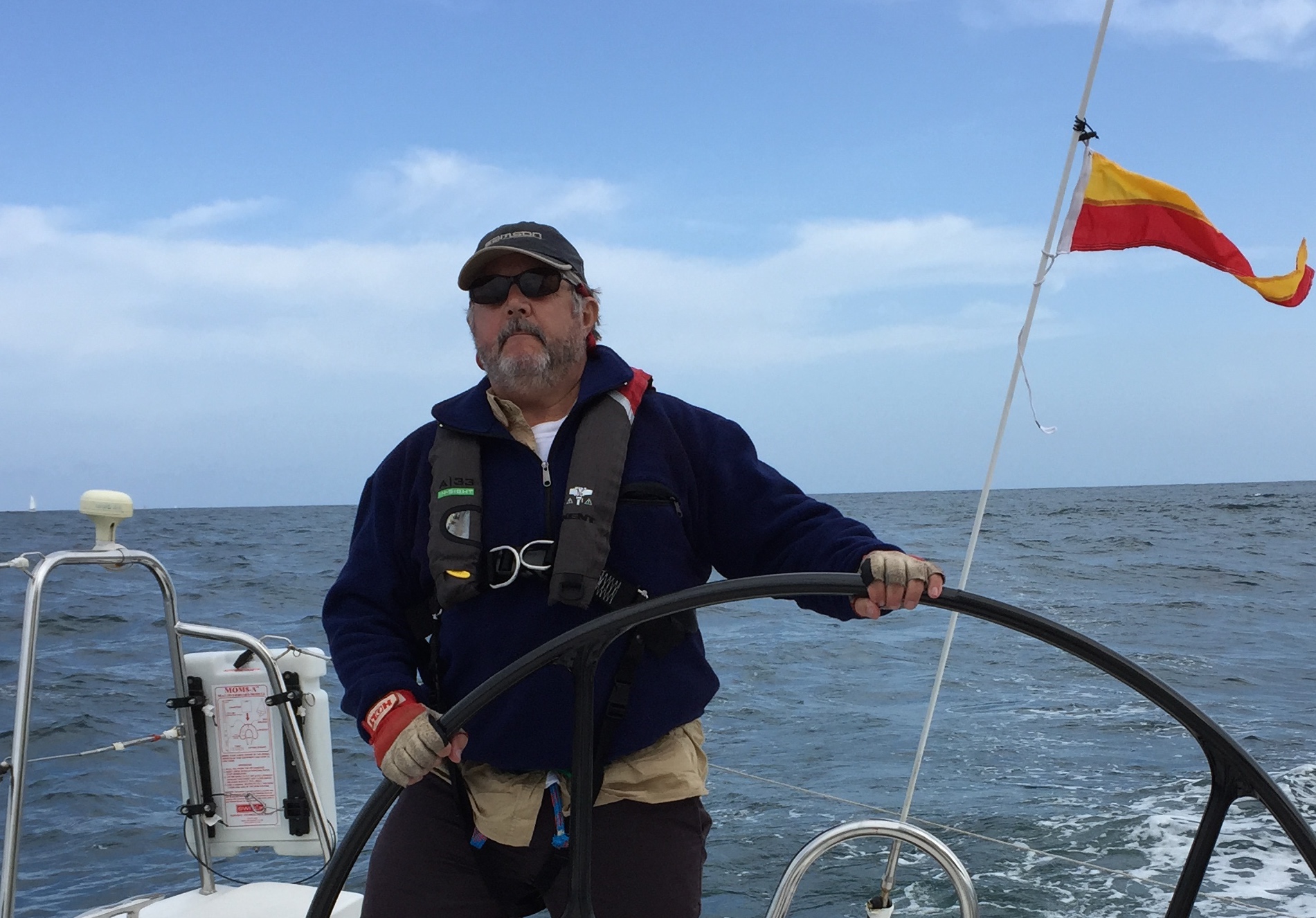 Bruce at the helm of TKO during the 2015 Newport to Ensenada Race
Boat Name: TKO
Boat Model: J122
Homeport: Balboa Yacht Club, Newport Beach, CA
Owner: John Raymont; Bruce serves as watch captain
Title: Sales Representative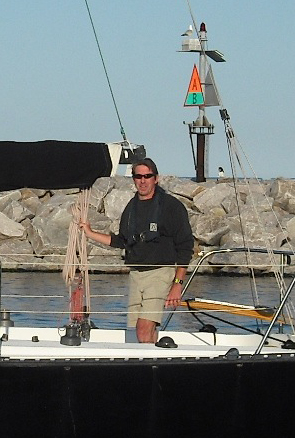 Ken sailing Lake Michigan waters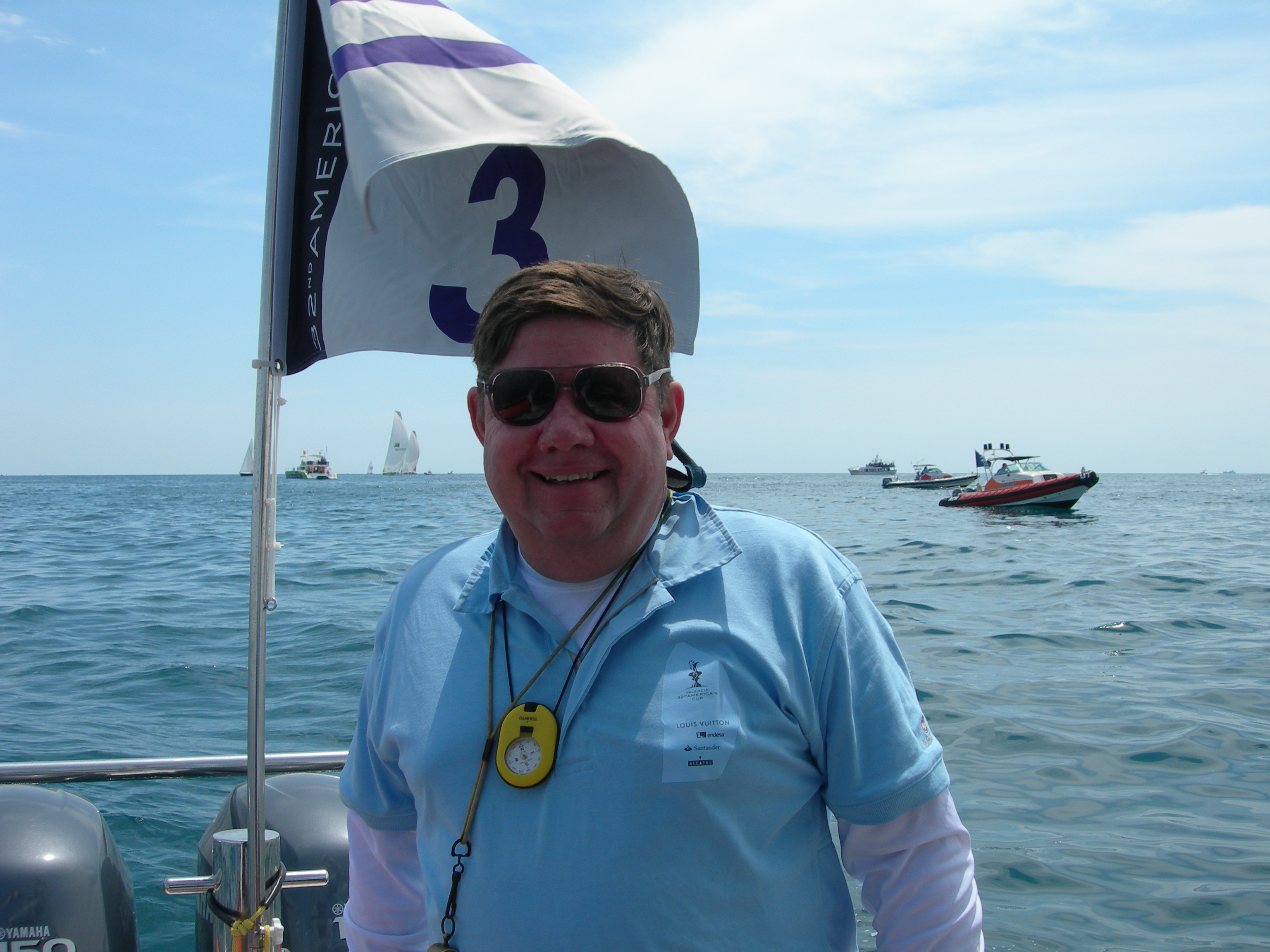 Kirk Brown, sales representative, on Umpire Boat 3 during the America's Cup in 2007. Kirk is an ISAF International umpire and judge. He was part of the umpire team for America's Cup 32 in Valencia Spain. Kirk has umpired world championship events all over the world. 'Being in the arena' was the high point of this event and indeed in every event. In Kirk's words: "Umpiring and judging has extended my sailing career past the point where I could be competitive as a racer, although I still get out on the LBYC Catalina 37s from time to time."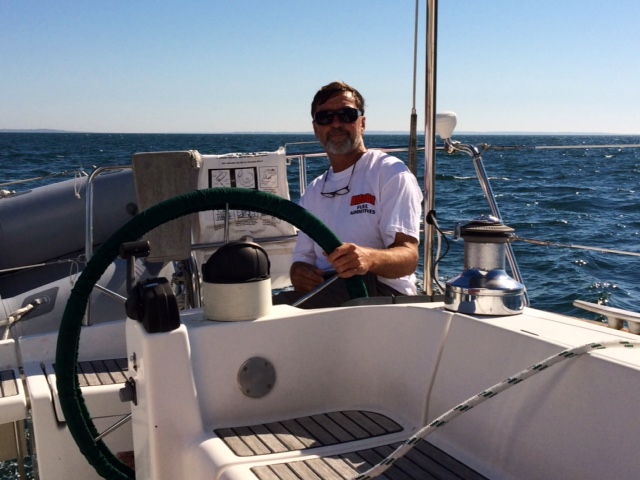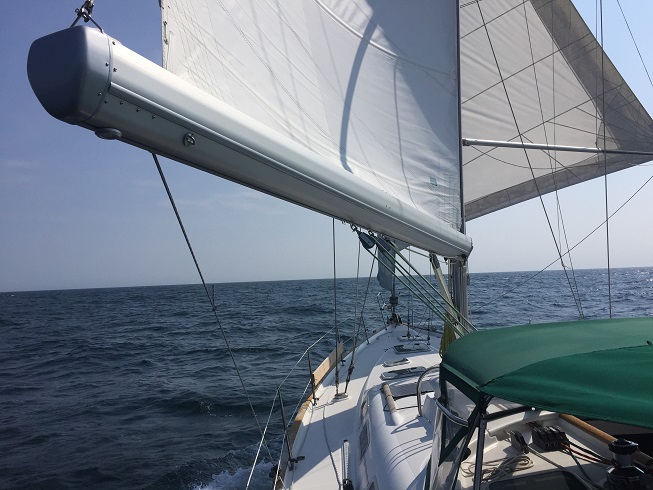 Boat Name: Windarra
Boat Model: Beneteau 473
Homeport: Padanaram MA
Owner: Tom Peelen
Title: Sales Representative
Forespar Products used on the boat: Leisure Furl®, 13-24 whisker pole, Nova Lift, Nova Davit, Man Overboard Pole OP-120, Floating Strobe Light WL-1. LED Mast Light ML-2, Sta Plugs, Lightning Master Static Dissipater, Tea Tree Power.
Notes: Tom sails Windarra to Florida yearly as a southern office.