Offshore™
LEISURE FURL® OFFSHORE™ SYSTEM
THE SMART CHOICE – Worldwide recognized leader for in-boom systems for boats 33′ to 85′.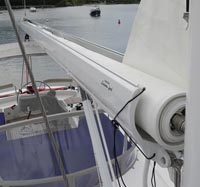 Nearly 3,000 systems in use, making ocean passages all over the world in all sea conditions. Leisure Furl® is a highly efficient, safe and simple method of reefing and controlling the mainsail. The Forespar Leisure Furl® is developed, marketed and built by a spar builder of the highest reputation. We have been building spars in the U.S. for over 40 years.
5-Year Limited Warranty
The crossing of the South China Sea really showed how great the Leisure Furl® system is and how good it makes the boat go. We were able to truly "dial-in" a sweet spot and thus had an exciting and well balanced sail in 35-40 knots of wind on the nose. Our trip so far – 29,840 miles 14,850 miles in 2009 • 43 countries Glenn Maddox, S/V Red Thread
OFFSHORE™ SYSTEMS FEATURES
Custom Engineered and Fabricated for your Boat
Elegantly Tapered for Weight Savings & Aesthetics
Easily Fitted to Existing Mast Without the Need to Unstep
Spar grade 6005 T5 heat treated aluminum alloy extrusions for superior strength
High-strength 17-4 investment cast stainless steel gooseneck fittings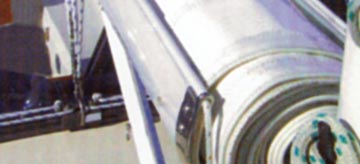 Built-in Sail Cover
Each Leisure Furl® boom comes standard with a built-in sail cover for convenience and ease of handling. The Sunbrella® sail cover protects the sail from the harmful elements.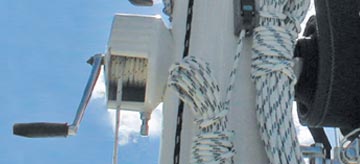 Manual Override
Each offshore™ system has a built-in manual backup in case of halyard or furling line failure. Winch handle control is easily accomplished at the mast. The internal ratchet allows the system to be locked in place for long passages.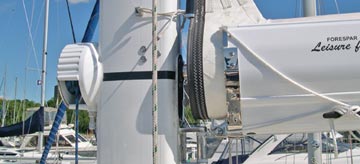 Load Bearing Points
Leisure Furl's® unique design offers 3 separate load-bearing points. The mainsail and boom loads are distributed primarily to the mandrel and drive shaft bearing while the mainsheet and vang loads are carried by the gooseneck fitting.